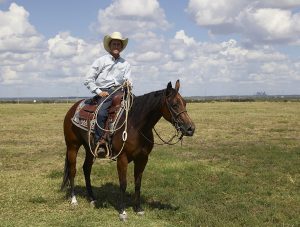 Here is something interesting that I've certainly never heard of. At the American Quarter Horse Hall of Fame & Museum in Amarillo, Texas they will be celebrating the 10th anniversary of America's Horse in Art show. The exhibit includes artwork from more than 40 of the world's best Western artists and will take place from August 12 to October 14.
The artists at the show present their paintings, drawings and sculptures in the Scharbauer Gallery. They tell me that the signature piece this year is by artist Joni Monroe Beinborn of La Crosse, Wisconsin. Titled "Any Time…Any Place," the piece should make a splash with guests.
It certainly sounds like an event worth putting on your calendar.