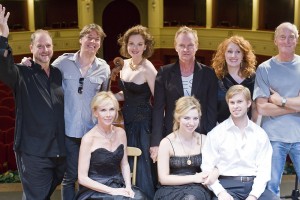 Art shouldn't be about money, profits and making a business. At least, that's what businessman and art patron Barrett Wissman believes. Described by Gulf Elite magazine as "the Medici of the 21st century," Wissman "sees innovation in differentiation." And with this, the Los Angeles, California, IMG Artists visionary has been making a name for himself in what has now become known as the annual Tuscan Sun Festival, among other such ventures.
Barrett Wissman has a mission. Right now there is so much money being linked to the art industry, at the expense of fine arts and refined music. Barrett Wissman thus wants to "have more and more people enjoy and love the arts." And, to do this, he is "attempting to convey a new meaning for performance arts." The Tuscan Sun Festival has played a big part in this. And following that, he played a pivotal role in what culminated in the Napa Valley Festival del sole.
But Wissman has not taken his business hat off either. Rather, he seems to have combined his entrepreneurial spirit with his love of the arts. This can be seen through his dedicative work with the IMG artists.
But even with his success in the industry, Wissman ensures he remains level-headed. He knows how important it is to respect eastern cultures in music. He said:
"It would be arrogant for us to come in with all-western music. The collaboration between western and eastern music and arts is one of our driving philosophies. To show that performance arts lives within all boundaries is our core value. We cannot claim the world is our stage unless we actually work towards that goal."
If this Los Angeles, Californian businessman can make art more accessible for the masses – simultaneously mixing eastern and western cultures – from both a business and art point-of-view, he would have been successful.