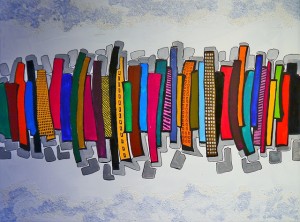 The Dallas Art Fair is in its seventh year and was held in the downtown Arts District near the Dallas Museum of Art from April 9-12. It is housed in the Fashion Industry Gallery, a two-story space filled with light. This year's show included more than 90 galleries with galleries from as far away as New York and LA being represented, as well as those from Europe and Asia.
Justine Ludwig, the Director of Exhibitions and Senior Curator at the Dallas Contemporary, said "The art fair brings people from all over, last night at our opening we had a really diverse crowd, more than we're accustomed too. It wasn't simply Dallasites, it was people from all over."
As Ludwig pointed out, "It's amazing that this fair has galleries from other countries right next to other galleries based in Dallas. And Dallas galleries are really given prominent positions within the fair."
If you missed it this year – it's certainly worth having on the calendar for next year!