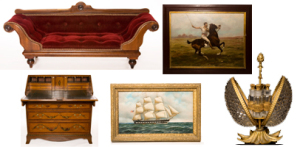 Anyone who loves antiques should get to the Morristown Armory Antiques Show today and tomorrow. This yearly event includes more than 100 exhibitors. Items
One antique dealer, Mimi Gunn of Morristown said,
"I've been in antiques for 44 years. I learned early on. I started doing this when I was a child following my mother. This is the best area in the country for antiques. I think New Jersey has some of the best and most unusual items in the country. There are things everywhere."
There are all sorts of clinics in addition to the items for sale. Artist Louis A. Pirrello, "Restorations by Louis," had a porcelain restoration clinic and Paul M. Nulton hald a glass repair clinic.
The show takes place today and tomorrow at 430 Western Avenue in Morristown (exit 35 off I-287). Admission is $10 and there is even a $2 off coupon to be had at http://jmkshows.com/20141101_antique_armory.html.