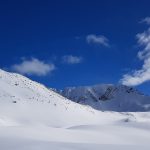 Earlier this year, businessman and photographer Scott Mead exhibited his works at Hamilton Gallery, London.  The exhibition – based on his book Above the Clouds – began on January 9 and ended 10 days later.
So for those who missed the exhibition, they can still catch Scott Mead's book.  All proceeds from the exhibition as well as the sale of the book will be donated to the UK's Great Ormond Street Children's Charity, where one of his children was once cured of a life-threatening illness.
Mead has provided a further understanding of what led to the creation of the exhibition and his publication of the book as follows:
"I have always found a sense of magic in travel. Anticipation, a feeling of liberation and boundless promise arise when journeying into the unfamiliar, making us acutely conscious of ourselves. But with travel above the clouds, there is something unique: we surrender control and immerse ourselves in the journey and the moment…And within those rarefied moments and that space above the clouds, we can often find our way back into an inner world that is otherwise difficult to access. Looking out can therefore allow us again to look within."
In the book he has brought together the "physical, emotional and philosophical wonder of air travel" depicted through the images he took during his years of international travel.