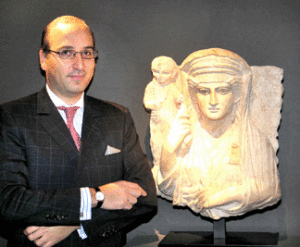 Thursday sees the start of this year's Spring Masters New York.  Now in its third (and ultimate) year, the four-day show was described last year by Artnet News' Eileen Kinsella as "putting a fresh spin on the art fair concept."
So what does this fair actually offer?  Sometimes the concept can be hard to define since the event – held this year at the Park Avenue Armory – seems to have encountered one new identity after another in its short existence.  In 2011 it was called Spring Show NYC, but then two years later it was rebranded as Spring Masters by new Artvest owners Michael Plummer and Jeff Rabin.
However, what is consistent is that a wide range of different exhibitors take part in each year's show, from ancient to contemporary; western to eastern Europe, etc. Some examples of this year include Phoenix Ancient Art (ancient), Jerome Zodo (contemporary), Jack Kilgore & Company (western-European) and Erik Thomsen Gallery (eastern).
Regardless of any marketing changes, the fair has since its inception, earned a reputation for being "an important destination on the art world calendar, providing a high-quality fair focusing on connoisseurship and a rich breadth of material during the peak of the spring art season in New York." And given that the first night is by invitation only, that adds to the element of prestige and mystique.