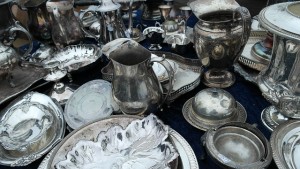 Flea markets have become all the rage – and often with good reason. People can find real gems in these locations, and many of them have started having upscale home decor. Sweet Salvage, for instance, in Phoenix, Arizona, has recently doubled its retail space. They now have a 5000 square foot warehouse, bringing their retail space to 10,000. It's only open four times a month. Now, in addition, it's going to be open on the third Thursday of the month for four-day themed sales.
Opening three years ago, Sweet Salvage gets about 3000 shoppers a month. In addition to their unit wares, they have hosted a number of national authors for book signings and DIY events. These include Joanne Palmisano and Mary Emmerling.
For the upcoming and recent sales, the January sale was be called "Room for Improvement" and celebrated the expansion. Customers looked through bins, lockers, cabinets, furniture and home decor. The sale took place on January 15th through 18th. Next up is the February show themed "Rustic Luxe." It will showcase mixing distressed woods with more luxurious and softer materials.