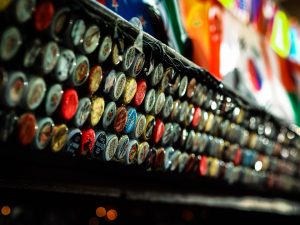 There are many ways to see and to appreciate art, and they don't all have to take place in a museum. That's what brewery owners in Colorado are starting to figure out, as they experiment with displaying artwork in their breweries.
As artist Amanda Willshire explained, "Brewers are artists themselves using a palette of hops, malts and other yummy ingredients to create their masterpieces. Since most of their time is spent perfecting their own craft, they look to visual and performance artists to bring something special to complement their space."
Willshire, for instance, creates sculptures out of recycled beer bottle caps. Her work is featured in many breweries in Boulder and across Colorado. She displays her artwork in locations like Vindication, Upslope, Twisted Pine, Great Divide, and Odell.
Jesse Crock, another Colorado-based artist, also has her acrylic paintings in breweries around the state. He had his first big break with Eddyline Brewery in Buena Vista and has had his paintings featured on their Pumpkin, Raspberry and Red Chile beer labels.
The Taproom Manager at Odyssey Beerwerks, Jeremy Sisco, explains why he thinks that it's so appropriate for artwork to be displayed at breweries. As he said,
 "The process of brewing can be so creative, just like visual art. Brewing may be more scientific, but without a creative mind neither would be very good."
Certainly, this is an interesting trend that is worth thinking about and enjoying!