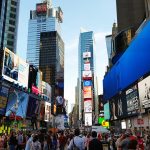 There are so many exciting art fairs in New York at the moment and it's hard to figure out which ones to hit and which to miss. Here is one to hit – Spring/Break is taking place on two abandoned floors of the Conde Naste building in Times Square. And it is guaranteed to be worth the time.
Each individual or team has been given an empty office or conference room and told to create. The theme this year is Stranger Comes to Town, which is certainly only applied in the vaguest way possible in most cases. There are 400 different displays here and so many of them are entertaining and exciting.
Much of the displays include interactive media such as the Fall On Your Sword music company's musical accompaniment to their art and the three minute installation "Continuous Eye Contact" by Bobby Anspach.
This is an event worth your time. Spring/Break Art Show is at 4 Times Square and is open from March 7-12, 11-6pm daily.