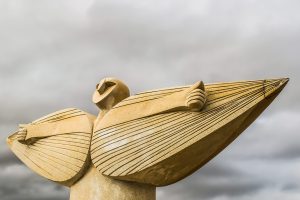 Thanks to various sponsors (including an anonymous donor, ProdMedica and Dina and Hicham Aboutaam), the July 2017 Toledo Museum of Art (TMA) program has an impressive lineup.
Getting off to a good start with The Berlin Painter and His World: Athenian Vase-Painting in the early fifth Century B.C. organized by the Princeton University Art Museum, this exhibition opens to the public at the Canaday Gallery on July 8 (and can be seen until October 1, 2017).  Viewers can learn about the art of The Berlin Painter (the anonymous artist from the early fifth century BC) featuring some of the vases believed to have been constructed by him/her as well as works from other outstanding artists from that time.
Moving over to Gallery 18 we find a continuing exhibition (supported by the Ohio Arts Council, H. L. Thompson and Jr. Family Fund, among others) featuring an artist infamous for her focus on gender, race and sexuality.  Today, Kara Walker is one of the most celebrated artists, having had her print series Harper's Pictorial History of the Civil War acquired by the Toledo Museum of Art.
Other events at the July TMA program include: the FREE film in the Great Outdoors (Jason and the Argonauts) and FREE Great Performances Gwilyn Simcock, André Mehmari, Friday music events Alright Gandhi, Old State Line, Ramona Collins, Grape Smugglers.  Then there is Wine by the Glass Pavilion, Glass Art, Glassblowing Demonstrations, Free Public Tours and more.