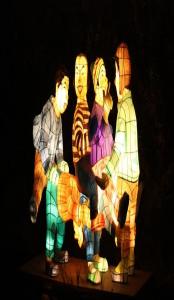 The Park Avenue Armory hosted the International Fine Arts & Antique Dealers Show last month. Launched by Anna and Brian Haughton, the show will be followed by the Art Antiques Show in London next June.
Both Haughton fairs are intended for collectors, without showy displays and tourist attractions. Anna Haughton explained: "We are interested in showing the things that real collectors want."
This year's top three bets include:
Fertility Goddess
Made in Thessaly some 7,000 years ago, this tiny curvy marble sculpture stands only five inches tall. A true find at Phoenix Ancient Art of Hichaam Aboutaam and Ali Aboutaam, the figurine expresses true female beauty in the Aegean region during the Neolithic Period.
Chinoiserie Chimneypiece
Ronald Phillip's George III carved chimney piece stands ten and a half feet tall. The architectural item, covered in rococo ornament, was going for $1.3 million. Made around 1755, the piece is believed to have been made by Matthias Lock, with the original drawing currently kept at the Victoria and Albert Museum in London.
Bow Owls
Two realistic-looking owls perch on twentieth century ormolu, made by Bow, the English firm, in 1750s. London's Brian Haughton Gallery was selling them for nearly $300,000.